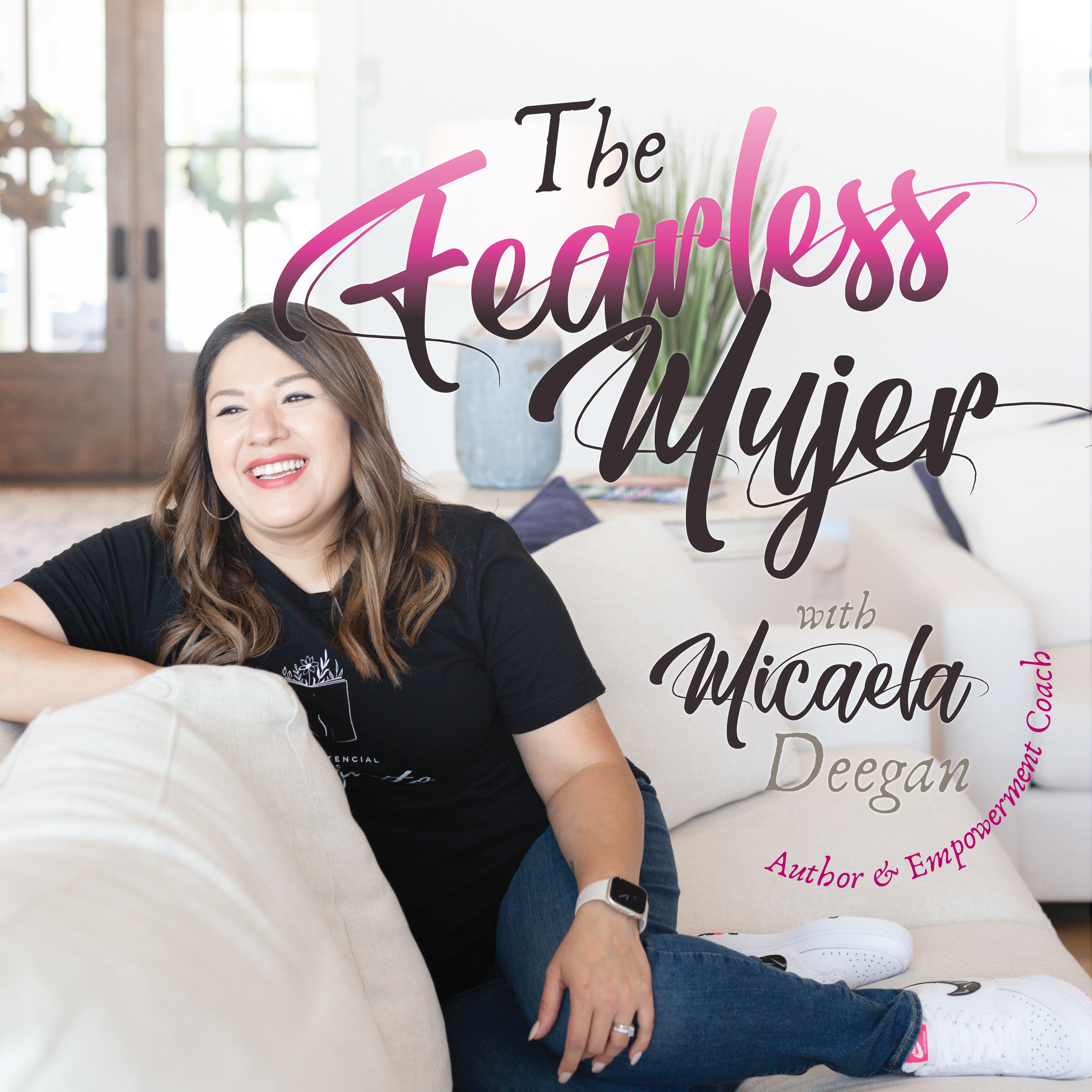 This is a mini course part of Fearless Mujer Mastermind.
Please be advised.
Fearless Mujer LLC. content is not for resale. Your participation in the Program/Course does not entitle you to make any unauthorized use of any protected content, and in particular you will not delete or alter any proprietary rights or attribution notices in any content. You will use protected content solely for your individual use, and will make no other use of the content without the express written permission of the Company and the copyright owner. You agree that you do not acquire any ownership rights in any protected content. Your participation in the Program does not result in a transfer of any intellectual property to You, and, as a condition of participation in the course, You agree to observe and abide by all copyright and other intellectual property protection. Fearless Mujer LLC. 2021 - All Rights Reserved.

What's inside this course?
Welcome to the Empowered Latina Master Course. I am so excited that you are here, and ready to reignite the mujer / woman you are!
This course will set the foundation to help you step into your authority with boldness and confidence.
You will be equipped with powerful tools that are going to help you identify and recognize beliefs that may be holding you back from accomplishing your goals or stepping into your next chapter of life.
This course will help you rediscover who you are at your core.
You will dig deeper into discovering and your passions, so you can set the goals that will help you pursue your goals and dreams with confidence.
This is a four-week self-study course, and each session is one week.
If you are a quick learner and would like to complete this over the weekend, please do so.
If it takes you longer than four weeks that is okay.
This is the beauty of self-study; you can work at your own pace. Please don't rush as you work on completing this master course.
Give yourself time to reflect and dig deep.
I suggest that you print your worksheets before each session so that you can be prepared, but please don't skip the worksheets.
Do the work Amiga, so that you can get the results that you came here for.
When you implement what you are learning you get results. Do the Purposeful Task and Action Step after each session.
Email Micaela if you have questions: [email protected]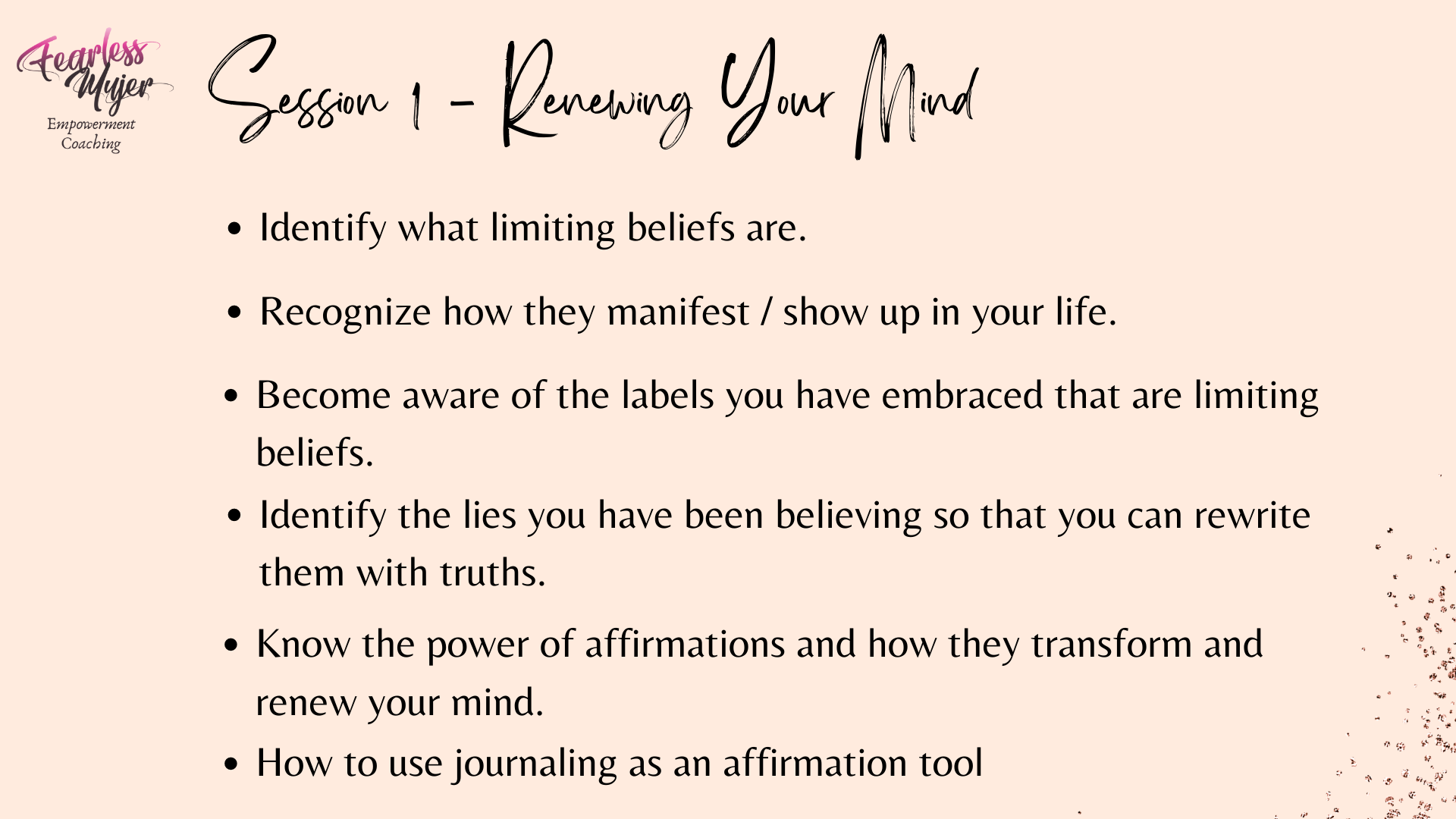 Week 1 / Session 1 - Renewing Your Mind
During session 1 we are going to dive into identifying what limiting beliefs are and how they can manifest or show up in your life.
We will talk about labels we embrace and how they become lies we believe. Together we will work strategically to rewrite lies that you may be believing about who you are.
You will learn the power of affirmations and how they can be tool to help you renew and transform your mind.
We will also dive into some journaling. It's time to rewrite the lies so you can reclaim your confidence!

Week 2 / Session 2 - Reclaiming Your Confidence
During session 2 we will discuss what confidence really is and how to discover and understand who you are at your core.
We will dive into your authority and we will also dig deeper into your unique experiences. Make sure to download your worksheets for this session so that you can dig deep and reflect as you work through this week.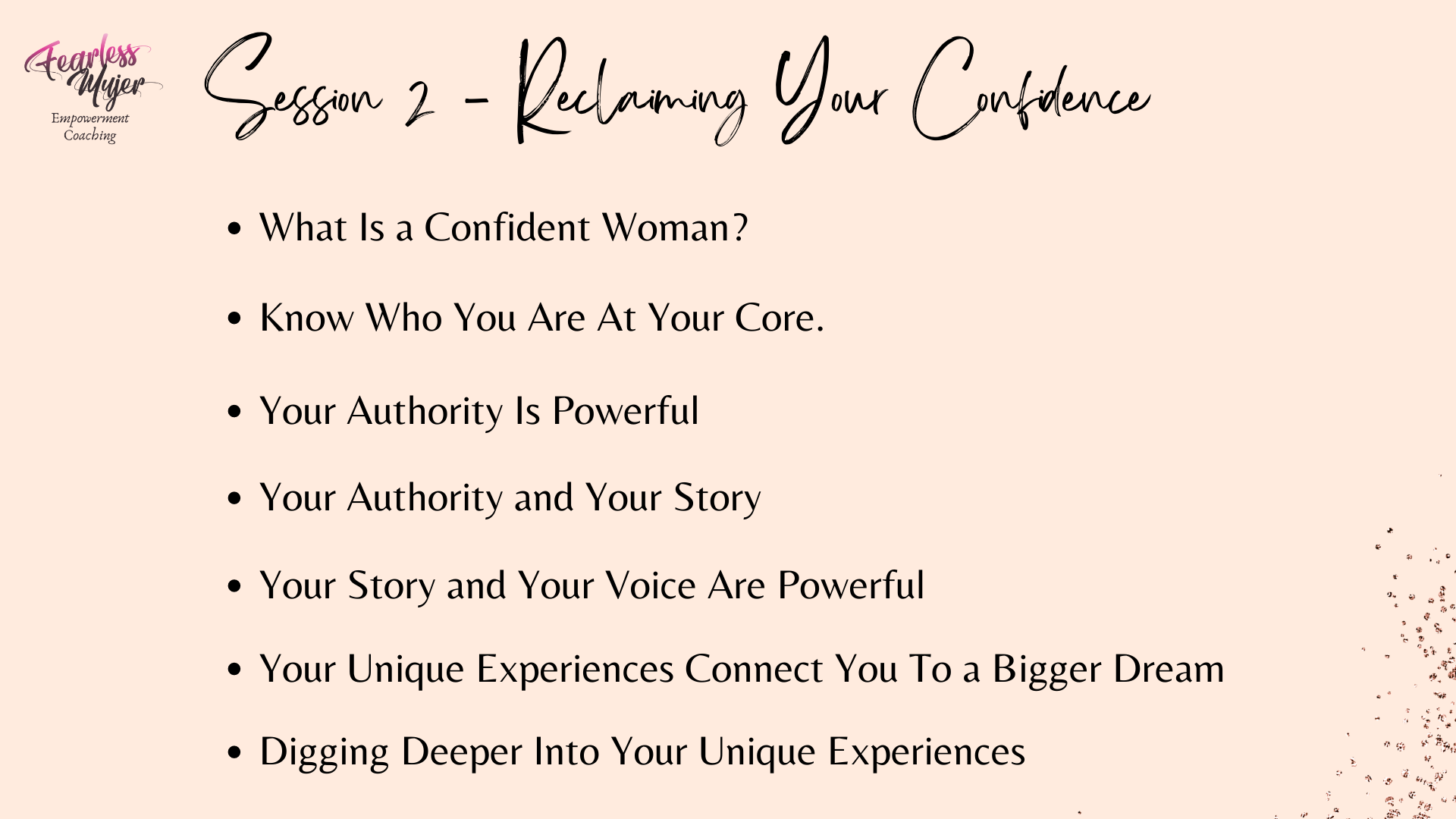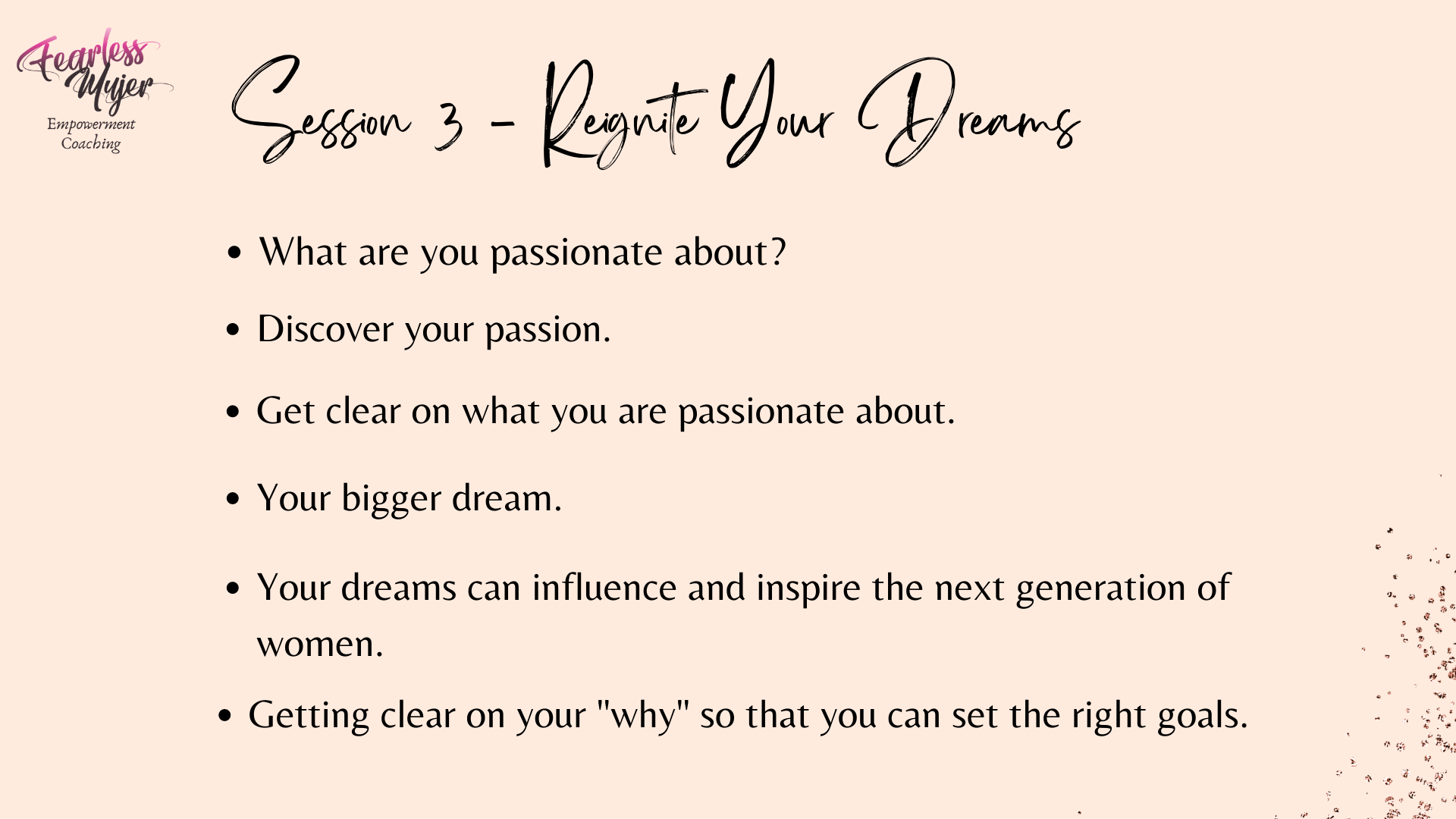 Week 3 / Session 3 - Reigniting Your Dreams

During session 3 we are going to dive into reigniting your dreams!
We will work through discovering your passions and getting clear on what you are passionate about. We will talk about your dreams and the power they have to influence and inspire the next generation of mujeres/women. I will also help you get clear on your why so that you can begin setting the right goals for you!

Week 4 / Session 4 - Reignite the Mujer You Are
During week 4 we will look back on the last 3 weeks of this mini course. I will help guide you as you self-reflect on what you've discovered throughout this course and how you can implement and customize what you have learned.
You'll also get clear on the bigger why behind your passions and dreams. When you complete week 4 you will have a list of custom affirmations, worksheets to implement what you've learned, a journaling technique to help you self-reflect and rediscover more about who you are, what your passions are, and what you can start doing to pursue your goals and dreams without needing validation.
More importantly you will know how to identify beliefs that may have been holding you back from your personal goals and dreams. You will be more empowered by knowing that you can confidently be who you were created to be and that you can pursue your bigger dreams.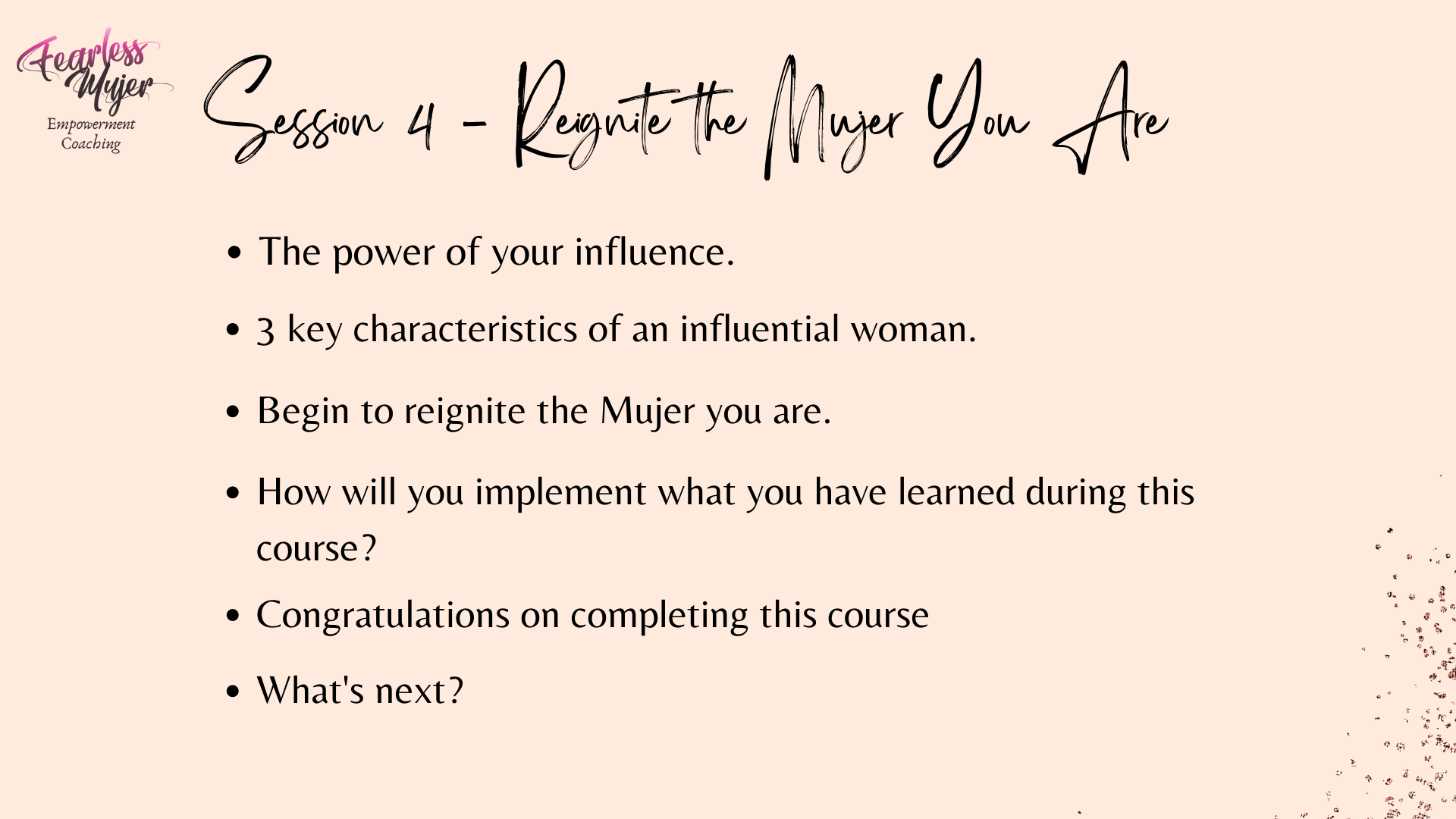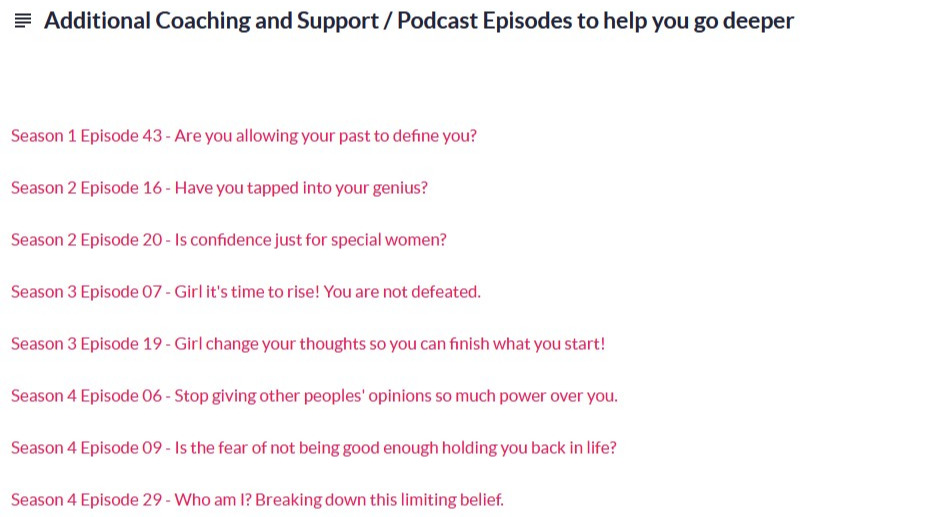 Bonus Coaching & Books for additional support
The Fearless Mujer Podcast episodes to help you dive deeper!